Written by

Liza-Jane Sowden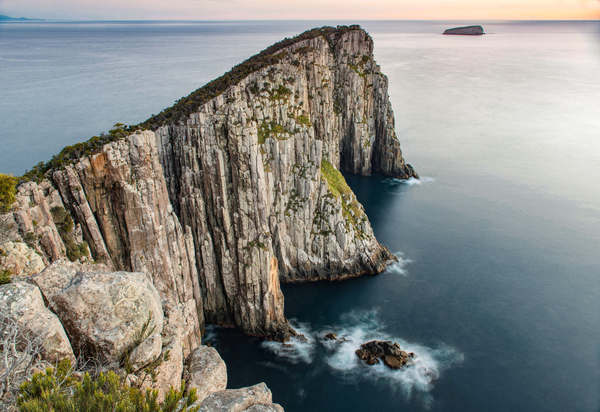 When Lonely Planet rated Tasmania among the world's top regions to visit in 2015, there was one experience they said was not to be missed. A multi-day walk like no other – where dolerite chasms are crossed, tall eucalypts cast shadows and footprints are left along towering sea cliffs. It's been coined 'Australia's premier coastal bushwalking experience.' We would like to introduce you to the Three Capes Track, a walk that takes you along the world's edge.
Lace up your boots, breathe in the world's cleanest air and head for the Tasman Peninsula. Bookings have opened for the most anticipated walking experience in Australia. The newly launched www.threecapestrack.com.au is your portal to book and be one of the first to walk hand-carved steps that weave alongside some of Australia's highest sea cliffs while the three capes; Pillar, Hauy and Raoul are silent actresses in this dramatic play.
Lonely Planet Asia Pacific Sales & Marketing Director, Chris Zeiher said, "Giving access to some of the most dramatic coastal cliffs in all of Australia in a slightly more comfortable way for people to access, was a really important thing to get out to the global travel community."
Some would consider it ethereal; others unattainable, but thanks to the meticulous work by  Tasmania Parks and Wildlife Service, this experience is accessible not only to the hardened bushwalker, but those with boots looking dashingly un-worn.
It's achievable, not only in the physical sense but also within the context of a short break. In just four days, it's possible to feel you've travelled to the furthest corner of the globe. All while staying connected to the world – ideal for far-flung updates via social media. For others, the opportunity to switch off and tune in to the constant rhythm of the wind and waves is the appeal.
The track links Denman's Cove, opposite the World Heritage-listed Port Arthur Historic Site, to Cape Hauy. But to get there, wisps of salt spray and towering cliffs from sea level are your first introduction; via a Pennicott Wilderness Journeys purpose-built boat. Described more as a natural pathway than a traditional bushwalking track, the mud-free Australian Standard Class 3 design is wide enough for walkers to enjoy side by side. What's more, those who prefer views of the Southern Ocean over their boot laces, will appreciate the meticulous construction.
Three environmentally-sensitive cabins are positioned at key locations and just like the track beneath one's feet, these cabins are brand spanking new. These warm, cosy havens with unsurpassed views offer comfy mattresses, heating and kitchen utensils, which mean less to carry on your back. Four days later walkers emerge at Fortescue Bay – where calm waters and cool white sand are a welcome refreshment for tired toes.
But it's not just walking that has Lonely Planet talking. It is Tasmania's subterranean Mona and other wild places like the Tarkine, Cradle Mountain, Franklin River and the Bay of Fires. This travel guide is taken by our flavours on Bruny Island and the diverse, remote and wild outdoor experiences' on offer across the island.
We have plenty more to tell Lonely Planet, like how you can come here and kiss a seal, almost within view of the Three Capes Track. How mountain biking trails in the far north east are slated to be among the country's most sought. But for now, we'll sit back and enjoy the accolades with a drop of the World's best whisky while others book into Australia's best boutique lodge and line up for Australia's premier coastal bushwalk. It is little wonder Tasmania is ripe for the picking in 2015.
For more information on Tasmania, visit www.discovertasmania.com.au. 
TRAVEL TO TASMANIA
Travellers can fly to Tasmania on Jetstar, Virgin Australia, Qantas, Qantaslink, Tigerair, Sharp Airlines or Rex Airlines, or take the Spirit of Tasmania ferry from Port Melbourne (VIC) to Devonport (TAS).
Tourism Tasmania is the Tasmanian Government's tourism marketing agency. Its main purpose is to connect people to Tasmania through domestic and international marketing programs that create demand for Tasmanian holidays and attract more visitors to the state.
Lonely Planet named Hobart one of the world's 'Top 10 Cities to Visit in 2013' and Bay of Fires the world's "hottest" travel destination for 2009.