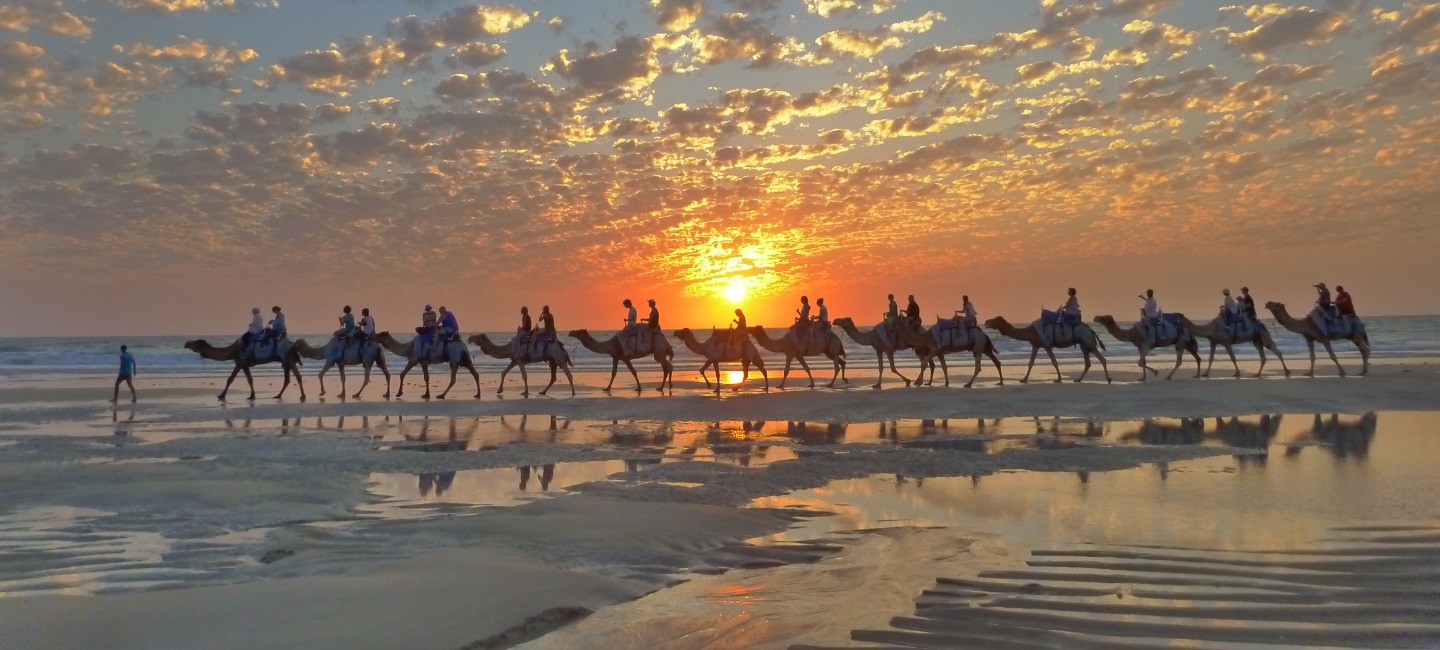 Western Australia's Broome has plenty of offer its visitors, thanks, in part, to its location on a peninsula overlooking the Indian Ocean. Boasting warm temperatures and a tropical setting, Broome is an ideal spot for outdoor activities, whether you're seeking adventure or simply looking to relax. Offering many once-in-a-lifetime experiences, Broome truly has something for everyone. So, load up your campervan hire and make sure that Broome is on your itinerary when you're road tripping through Western Australia. Learn more about everything Broome has to offer, and devise a to-do list featuring your favourite adventures.
Visit Cable Beach
Thanks to Broome's peninsular location, the city offers ample coastline for you to enjoy. Take your campervan hire to Broome's Cable Beach, which is a must-visit for anyone in the area. This beach attracts visitors from around the world -- for good reason. It boasts 22 kilometres of pristine white beaches running alongside the turquoise waters of the Indian Ocean. The peak beach season runs from May to November, but Cable Beach is spacious enough that you'll always find a spot to set up. If you're looking for a relaxing day spent on Cable Beach, you'll be able to rent the equipment you need, including beach chairs, umbrellas, and even bicycles, for your stay.
In addition to kilometres of sandy shoreline, Cable Beach also features two experiences that you won't want to miss. First, set up on the beach in the late afternoon and stay for a sunset. Hues of purple, gold, and red light up the sky every night, creating an unforgettable, picture-worthy sunset. Another unique experience on Cable Beach is camel riding. Camel rides are available during sunset, allowing you to take in the natural beauty of the night sky while riding on a camel across the sand.
Enjoy a Local Brew
If you're a beer lover, Broome has a brewery for you. Visit Matso's Broome Brewery, an award-winning restaurant that allows you to enjoy a locally brewed beer alongside a carefully curated menu that features an Asian influence. While you're there, go on a brewery tour to learn about how beer is made at Matso's. The hour-long tour gives you a behind-the-scenes look at the brewery and ends with a tasting paddle that allows you to sample some of Matso's best brews. In fact, you just might find one that you want to take home.
Walk Alongside the Dinosaurs
History buffs love Broome for one big reason. The Gantheaume Point, located just 10 minutes from Broome, is home to some of the world's oldest and most distinct dinosaur footprints. Known as Australia's Jurassic Park, this region boasts thousands of dinosaur footprints that are estimated to be a whopping 130 million years old. Naturally, this region has attracted paleontologists, who have identified 21 different types of dinosaur tracks in the region. Most notably, you can check out the world's largest dinosaur footprint, measuring 1.7 metres, made by the sauropod.
See the Staircase to the Moon
One of Broome's most notable natural phenomena is the Staircase to the Moon. Occurring a few days every month between March and October, this phenomenon makes it look like a staircase is climbing the night sky, reaching the moon. Be sure to check the calendar to see if your visit lines up with the dates when this phenomenon occurs. If it does, you're in luck. You can find many local spots hosting viewing parties, where you can watch as the staircase forms in the night sky. Don't forget your camera to capture this moment before it disappears.
Catch an Outdoor Movie
Broome's Sun Picture Garden is the world's oldest operating Picture Garden, offering a unique spot to watch a movie outdoors. The picture garden is especially unique because it shows multiple movies a night, rather than just one film. Check out the schedule to see what films are playing during your RV road trip, allowing you to enjoy Broome's warm temperatures while watching a movie in a unique setting.
Search for Wildlife
Learn about Broome, its native species, and its history during your visit. The Broome Bird Observatory allows you to check out many of the 325 species in the Broome area. Select from several different types of tours, which are available based on tides and the accessibility to the observatory after the wet season. Enjoy a shorebirds tour, mangrove tour, bush and plains tour, or lake tour, where guides will help you discover bird life native to the region.
The Malcolm Davis Crocodile Park, located just outside of Broome, allows you to experience daily crocodile feedings and so much more. You'll also be able to see colourful birdlife, spot kangaroo, emus, and wallabies, and learn about snakes and lizards. The daily crocodile feeding, a can't miss, takes place at 3 p.m. every day.
Conclusion
Western Australia's Broome offers a bevy of outdoor activities thanks to its oceanside location. Whether you want to explore the beach, hunt for wildlife, or take in some of the region's unforgettable sites, you'll certainly find plenty to do when you're in Broome. So, park your campervan hire, get out, and explore everything this region has to offer.