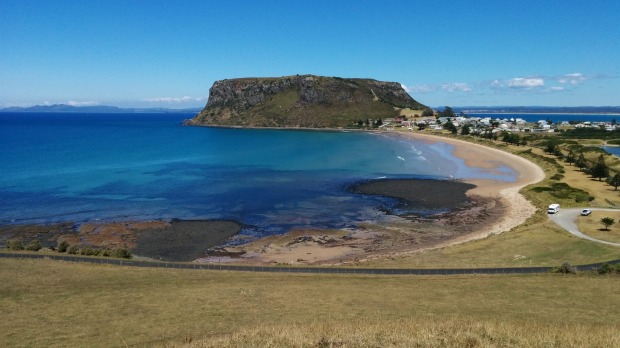 When you about hitching up the caravan and taking a trip somewhere for a week or two, the chances of Tasmania being at the top of your list are pretty slim. Unless of course you already live there that is. Although the state is a place of undoubted natural beauty, the fact that it's an island is somewhat limiting for caravaners.
But for those of you who are adventurous of nature, a trip over the Bass Strait on the Spirit of Tasmania might just be the type of trip you're after.
Getting there


As you may have guessed The Spirit of Tasmania is the only ferry to the island that is suitable for a caravan or camper. Now it can be expensive, but a little tip is to book as early as you can (we're talking months ahead), so you can get the lowest early-bird rates.
While it might seem costly, if you check the price for flights and caravan rental, it works out to be about the same. Another tip is to check the price for an overnight cabin and try the night sail. If you book early enough, the price could be quite reasonable. The trip is often calmer at night, and you can get a night's accommodation included in your fare.
On the boat


Tasmania has very strict bio-security laws so you can't bring any fresh fruit, vegetables, or fish on board the ship. If you like to go fishing (who doesn't?), then you need to declare your fishing gear so it can be checked. Best to make sure it's clean as a whistle before you leave.
You can't get to your car or caravan once you set sail so make sure to bring all you need with you when heading for your cabin.
The sites


There are over 50 caravan parks in Tasmania many of which are located in the state's areas of unspoiled natural beauty. There are sites that cater to every budget and van size so whether you're driving a huge motorhome or towing a small two berth van; you'll find a good park not far from every major tourist attraction.
However, with so many sites on the island, you will inevitably come across some not-so-great ones. Do your homework and check out site reviews before making your trip and give yourself a rough schedule to follow.
The roads


Maybe you heard that the roads are windy and hilly in Tasmania and it's true, they are. But the thing is that due to the logging industry these roads are wide and quite well-maintained. There are some that get a little narrow but all in all, the roads are good.
When visiting an area, double check to see if the local information centre has a large enough car park and ask if you can park up your caravan and drive off to take a look at the sights.
So are you all set for a trip to Tasmania or are you still on the fence about making that ferry trip. Perhaps you're still on the lookout for a new caravan to make the crossing. If that's the case, then we recommend you opt for caravan finance instead of buying your caravan outright. By doing so, you're cutting down on your initial investment keeping more of your cash in your account for a rainy day or a quick trip to Tasmania.
Whatever you decide to do with regards to buying your caravan, a trip across the Bass Strait sounds like a hell of an inaugural trip for your new caravan. It also sounds like a pretty great trip for an old reliable one too for that matter. Either way, stick Tasmania on your caravan bucket list because it fully deserves to be there.

As Australia's largest car finance broker, Stratton Finance know a thing or two about loans and finance. With over two decades of experience in the field they are one of the most trusted authorities in the industry.