Written by Richard Butler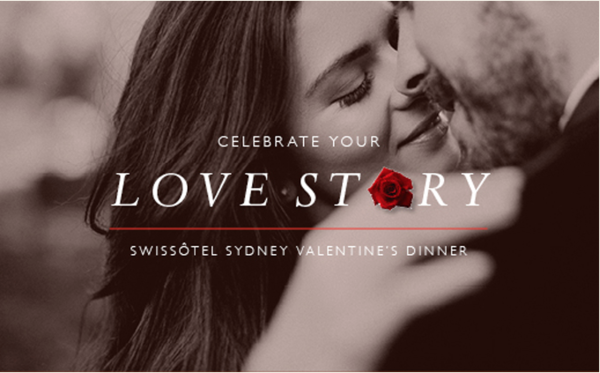 In celebration of Valentine's Day, Swissôtel Sydney's Executive Chef, Joshua Askew, has created a sumptuous special dinner at the hotel's signature restaurant, Jpb.  Featuring five plated courses, and accompanied by a glass of Chandon Rosé on arrival, guests are invited to begin a new chapter of romance in an elegant setting.
As the evening unfolds, guests are treated to decadent amuse bouches including a salmon roe and crème fraiche bellini, followed by entrées of butter poached Balmain bugs.  The selection of mains includes locally sourced Cape Grim beef fillet, or line-caught snapper on a bed of fennel and heirloom tomatoes.  The dining experience concludes with the sweet indulgence of a coconut mousse, accompanied by raspberry crumble and white chocolate.
The Valentine's Day offer at Swissôtel Sydney's signature restaurant Jpb, is available on Friday 12th and Saturday 13th February 2016, for just $99 per person.
Sydney-born Joshua has enjoyed a long history with Swissôtel Sydney and, at just 30 years of age, is the youngest Executive Chef in the Swissôtel brand worldwide. 
Chef Joshua brings a youth and creativity to the menu that highlights his natural talent and his philosophy for maintaining the integrity of ingredients.  His commitment is evident through his dedication to sourcing local produce and the network of relationships he has developed with leading suppliers.  Recently appointed Head Pastry Chef, Tracy Allesina who is originally from France, is creating delectable desserts to complement fresh, seasonal menus.
For additional details on the Valentine's Day menu, click here.
About Swissôtel Sydney
Swissôtel Sydney has recently undergone an exciting redesign that has brought new allure to this contemporary hotel. The striking new look includes the installation of a hand-crafted natural stone panel behind reception in the light-filled lobby, and the introduction of 14 sophisticated new Signature Rooms and Suites. The hotel's further 355 rooms have been completely refurbished with opulent wallpapers, the finest textiles and bespoke contemporary furniture, as part of a multi-million dollar design, completed in 2015.
Swissôtel Sydney is ideally positioned in the centre of Sydney's business and cultural scene, within metres of the iconic Queen Victoria Building, Westfield Sydney and the historical State Theatre. A ten-minute walk to Sydney Opera House and the lush Botanical Gardens, the 369-room hotel has a breathtaking 360-degree view of Sydney.

Facebook:      
Swissôtel Sydney main Facebook page:
www.facebook.com/SwissotelSydney
Jpb restaurant Facebook page:
www.facebook.com/jpbrestaurant
Crossroads Bar Facebook page:
www.facebook.com/crossroadsbarswissotelsydney
Twitter: @SwissotelSyd
Instagram: @swissotelsydney
 
About Swissôtel Hotels & Resorts
Swissôtel Hotels & Resorts got its start in Switzerland, a country known for big mountains and equally high standards of living. Its contemporary Swiss style and locally inspired flair attracts business and leisure travellers who enjoy high-end hotels but prefer fresh innovation to stale pretension. Conveniently located where travellers want to be, Swissôtel provides guests with the opportunity to stay in the heart of city centres worldwide where access to business and shopping districts are right around the corner. Swissôtel properties can be found in over 30 well-located properties around the world, with many more in development. As guests of the world, every Swissôtel upholds Swiss sustainability standards. In fact, Swissôtel has a mission: to treat guests, team members, and the environment with equal respect. Swissôtel is part of FRHI Hotels & Resorts, a leading global hotel company with over 110 hotels under the Raffles, Fairmont, and Swissôtel brands. But no matter how international Swissôtel becomes, just like the country it was founded in, it remains a small hotel at heart. For more information or reservations, please visit swissotel.com.
About M&L Hospitality
M&L Hospitality is a Singapore-based international real estate investment group.  M&L Hospitality's portfolio includes hotels in the key gateway cities of Singapore, Australia, Japan, New Zealand and the UK, bringing M&L Hospitality's assets under management to approximately AUD $1.5 billion.  Since it acquired Swissôtel Sydney in 2010 M&L Hospitality has been actively investing in the property, signifying its commitment to the hotel and its confidence in the Sydney market. 
For more information, please visit our website at www.mnlht.com.