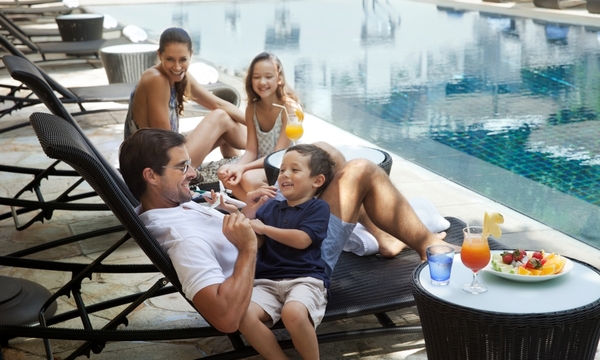 AccorHotels MyResorts program introduces specially crafted resort experiences to make travel dreams come true
New benefits help travellers make the most of their holiday at more than 100 breathtaking destinations across Asia Pacific
Travellers looking to live the high life and get more value can enjoy a range of inclusions and benefits when staying at AccorHotels resorts across Asia Pacific, with the launch of the group's MyResorts program. With over 100 resorts across the region, from private villas designed for romance to sprawling beachside resorts designed for family fun, AccorHotels has the perfect resort for every occasion and now there is a new way to enjoy them.
The program includes a comprehensive suite of benefits including MyGlass, My Kids, My Connect, My Host and more, with a range of inclusions and rewards – some free, some for a nominal fee – that will ensure travellers get the best value for their money and can experience their destination in style.
One of the signature elements of the program is My Glass, whereby for a small fee guests can enjoy unlimited soft drinks, juice and water all day long and two hours of free-flow house wine and beer (even cocktails in some resorts).
Families will especially appreciate the MyKids offer, which, for a set fee includes everything you need to ensure the kids have a fun stay including a welcome gift, kids meals and drinks all day long, a surprise treat each day, free in-room children's movies and free activities at the Kids Club.
The activities on offer at the Kids Clubs have also been enhanced to include more local arts and crafts, treasure hunts, nature trails and things like tree planting, where children can learn about the environment and get a certificate of ownership for their tree. They can even come back to see how it grows over the years.
Exclusive to members of the Le Club AccorHotels loyalty program, MyResorts is aimed at giving guests more whenever they holiday in the region. 
"We know that travellers are increasingly looking to have more exclusive experiences and get more for their money when they travel," said Javier Cedillo-Espin, Senior VP Loyalty and Guest Experience. "MyResorts is our way of recognising and rewarding our loyalty members and ensuring their experience is absolutely the best possible, thanks to a full range of meaningful and tangible benefits."
Depending on their status level, there are other inclusions such as premium high-speed wifi for as many devices as they like including for their family members, early check-in and late check-out, upgrades for gold and platinum members, a dedicated MyHost to take care of all their arrangements during their stay and, for platinum members, the ability to extend their privileges to a family member or friend staying at the same resort.
Le Club AccorHotels is free to join and includes more than 2700 participating hotels worldwide in 92 countries across the Sofitel, Pullman, MGallery, The Sebel, Novotel, Mercure, Adagio, ibis, ibis Styles and Thalassa Sea & Spa brands. Benefits include a VIP welcome on arrival, exclusive offers throughout the year, advance access to discounts of up to 50% several times a year, as well as a range of exclusive private events such as concerts, sporting shows, celebrity events and more. Best of all, if you stay with AccorHotels just once a year your points will never expire.
Le Club AccorHotels was named the Best Hotel Loyalty Program for 2015 in the prestigious Freddie Awards for Asia Pacific/Oceania/Middle East/Europe and Africa and also was voted as having the best hotel loyalty program promotion for the year.
AccorHotels has resorts in all the most beautiful destinations across Asia Pacific from the azure waters of French Polynesia to Fiji, from Bali to the Barossa Valley, from Palm Cove to Phuket, and from Goa to the Gold Coast.
For a full list of AccorHotels resorts in Asia Pacific go to www.accorhotels.com/resorts.
ABOUT ACCORHOTELS
AccorHotels is a Group united by a shared passion for hospitality and driven by a shared promise to make everyone Feel Welcome.
Over 180,000 women and men in almost 3,800 AccorHotels establishments look after thousands of guests every day in 92 countries.
AccorHotels is the world's leading hotel operator and offers its customers, partners and employees:
- its dual expertise as a hotel operator and franchisor (HotelServices) and a hotel owner and investor (HotelInvest);
- a large portfolio of internationally renowned brands covering the full spectrum, with luxury (Sofitel, Pullman, MGallery, Grand Mercure, The Sebel), midscale (Novotel, Suite Novotel, Mercure, Mama Shelter, Adagio) economy (ibis, ibis Styles, ibis budget, adagio access and hotelF1) establishments;
- a powerful marketplace and loyalty program Le Club AccorHotels
- almost half a century of commitment to corporate citizenship and solidarity with the PLANET 21 program.
Accor SA shares are listed on the Euronext Paris exchange (ISIN code: FR0000120404) and traded in the USA on the OTC marketplace (Code: ACRFY)
Follow news on Accor:
www.twitter.com/accorhotelsgroup | www.accorhotels-group.com
Book a hotel: