Written by

Nicholas Turner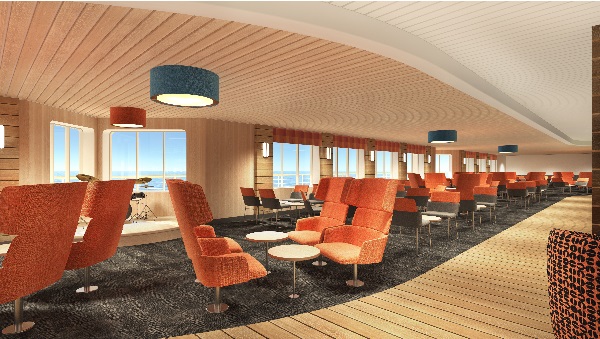 Spirit of Tasmania has launched a micro web site (www.spiritoftasmania.com.au/discover) to provide information about the refurbishment of its vessels.
The site features an updated concept video that takes visitors on a journey through the stylish new facilities, updated images and information on the new dining and entertainment options.
The microsite also reveals the names of these dining and entertainment options:
Top Deck Bar & Lounge (deck 10)
The Terrace Lounge Bar (deck nine)
TMK – Tasmanian Market Kitchen (self-service dining on deck seven)
Bar Seven (the main bar on deck seven)
The Pantry (deck seven)
A children's play area and teen zone area have also been included on decks nine and 10 but are yet to be named.
Designer Richard Nillson, of Figura, said his overall aim when presented with the brief was to develop a contemporary design that was "long lasting and not short-lived".
"For example, TMK Tasmanian Market Kitchen is a contemporary version of a market hall," he said.
"On decks nine and 10 we have used the idea of designing 'indoor areas' with an outdoor look and feel – deck nine will be more like a summer terrace bar while deck 10 will have a beach club lounge feeling.
"And in the deluxe cabins we have worked to crease a hotel character, light and comfortable within the existing cabin space."
Mr Nillson said passengers would appreciate a more "contemporary and comfortable" interior when travelling on the vessels.
"I hope that passengers will want to explore the whole ship with its different concepts and commercial avenues and that they will appreciate the comfort and designs so much that they will come back," he said.
Spirit of Tasmania chief executive officer Bernard Dwyer said the microsite launched today would allow the company to inform stakeholders about refurbishment plans and progress.
"The refurbishment program provides the company with a unique opportunity to improve the vessels for the overall benefit of the state," he said.
"We understand the crucial role our 'new' vessels will play in assisting the Tasmanian Government to increase visitor numbers to Tasmania to 1.5 million people a year by 2020."
Refurbishment works will start soon.
Both vessels will be available for the 2015/16 peak season that coincides with the 30th anniversary of Spirit of Tasmania operations.