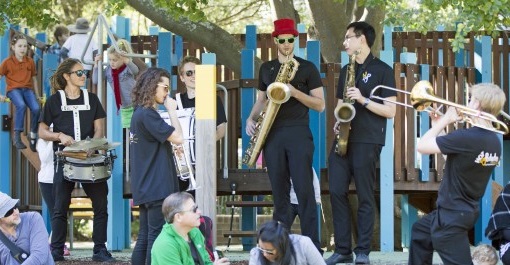 A beautiful new timber pavilion overlooking tennis courts, a walkway for kids built in the trees and new seating for parents and carers are among the improvements made to Glebe's St James Park as part of its transformation by the City of Sydney.
Lord Mayor Clover Moore officially opened St James Park on Saturday as families enjoyed a free sausage sizzle.
Larger, healthier grassed areas and a friendlier park layout with rerouted pathways are also part of the $2.1 million revamp.
The official reopening of the 3,600 square-metre public space between St James Avenue and Woolley Street saw children playing among the trees on a timber walkway – part of a new 'adventure playground' – instead of out in the sun on an old steel-chain swing set.
Drawings by local kids of the surrounding environment have been carved onto the hardwood gum walkway, which is painted blue in tribute to the blue-breasted wrens that once flocked to the park and which will soon thrive there again under the City's conservation plans.
"This upgrade to St James Park is the latest example of the City's work to provide our local residents with high-quality community spaces and attractive places to relax," Lord Mayor Clover Moore said.
"Well-designed parks and open spaces are vital for people with small backyards or none at all, and we have hundreds of green spaces in our city, including award-winners such as Hyde Park, Prince Alfred Park, Redfern Park and Paddington Reservoir Gardens."
Grassed areas at the park have been increased by a third and opened to more sunlight, meaning they will fare better than in the past, when the park could swing between dust bowl and mud bath.
New plantings are faithful to the original gardens of the homestead Inverness, which stood on the site 100 years ago, and the park's old bench seats have been relocated to enjoy open views of the new shrubbery.
The improvements are part of a city-wide parks upgrade program and follow a comprehensive public consultation process that involved several meetings and feedback via a dedicated website.
The City has more than 400 large, medium and pocket parks and open spaces. Residents, visitors and workers recently ranked them the best in NSW in an independent state-wide survey.
The Benchmark Park Users Satisfaction Survey rated the City's network of parks first among those of nine other councils reviewed.