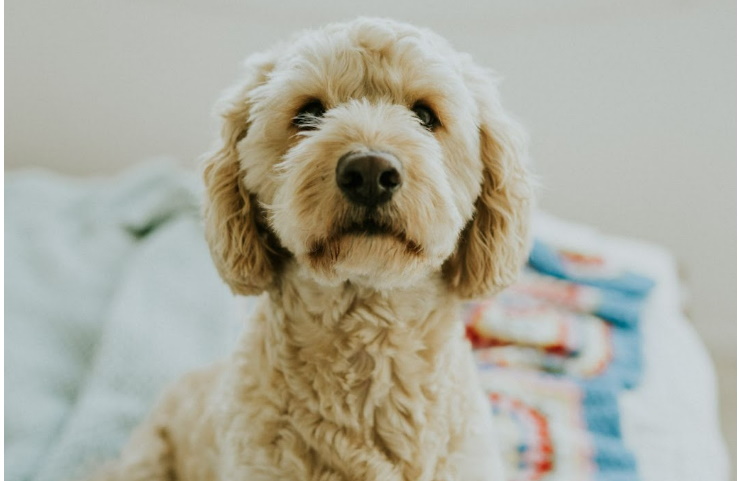 If you're familiar with mixed breeds and crosses, you probably already know that they're some of the cutest and most irresistible dog breeds out there. This would come as no surprise since mixed breeds often take the best parts of their parents, giving them great personalities, better health dispositions, and adorable appearances. One of these mixed breeds that have been well-loved in Australia and around the world is the Groodle, which is also known as the Labradoodle or the curly retriever.
A mix between a Golden Retriever and a Poodle, Groodles are well known for their fluffy coats and floppy ears. And because of their more common coat color of gold, Groodles look a lot like curly-haired Golden Retrievers. However, Groodles actually come with different colored coats. You can find ones with a black coat, brown coat, as well as grey-coloured coats. However, these are often rare and require both parents to have a recessive black coat gene. 
However, why is the Groodle such a popular breed in Australia? Why do Australians love Groodles more than any other mixed breed? To shed light on these questions, we've compiled a few things about the Groodle that may answer them:
Groodles are intelligent and easy to train. 
The Poodle and Golden Retrievers are some of the most intelligent dog breeds out there. In fact, because of their intuitive characteristics, these two breeds are favourite choices for guide and assistance dogs. As the offspring of these two remarkable breeds, it would come as no surprise that the Groodle is also a smart breed with a great penchant for learning tricks and excelling in dog training. However, they may have a stubborn streak, especially since they're very sure of themselves. This is why Groodle puppies often benefit from early obedience training and socialization while they're still young.
Groodles are family-friendly.
Groodles are friendly and sociable, making them a great option for families looking for their first family pet. They're great companions for children because of their calm and patient disposition. They can handle small children in the gentlest manner during playtime. However, because younger children may inadvertently push your dog and pull at their fur when they get excited, a Groodle may get hurt when left unsupervised. Ensure that you'll always be there to supervise whenever your kid and your new Groodle puppy are in the same room together or are in close proximity.
Groodles are less likely to develop genetic disorders.
One specific advantage of mixed breed dogs is that they often have lower chances of suffering from genetic diseases and the disorders that their parent breeds are often predisposed with. Because the Groodle is a mixed breed, pet parents may worry less when it comes to possible disease developments in later life, especially when they give their pets high-quality food and optimal exercise. Groodles also have longer lifespans, regardless of the size they come in. This means that you can enjoy their companionship for longer years, allowing your children to grow up with them easily. However, ensure that your Groodle still gets regular vet check-ups and up-to-date vaccinations just to make sure that they're healthy and they're equipped with the antibodies they need for better longevity and optimal health.
They come in a variety of sizes perfect for different lifestyles.
Groodles come in different shapes and sizes, with different coat types and body builds. This is highly dependent on the size of the puppy's parents, so you'll need to confirm with a certified breeder. What's great about Groodles is that if you want a specific size for, let's say, apartment living, you can go for their miniature variety, and if you have the space and yard to spare, you can opt for the standard or medium Groodle size. 
Groodles shed less than other dogs.
Another great characteristic of the Groodle is that they shed very little, thanks to their wooly coats. This means that
maintenance for this breed is relatively easy
, with Groodles needing just a few trimmings from professional groomers every year to keep their coats healthy and tangle-free at all times. For people with pet allergies, the Groodle is a great option since you wouldn't need to worry about allergic reactions every time you're in the same room or you happen to enter a space that your pet typically frequents.