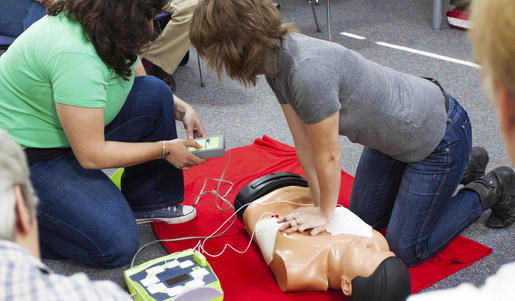 There are a great many reasons you might want to do first aid training. You might work in a professional role that requires first aid certification to be able to work. You might have a position of responsibility where people will look to you in an emergency. Or you might simply be a private citizen who wants to be ready to help in an emergency.
But with Covid 19 restrictions happening in various forms throughout Australia and Lockdowns striking at any place and time, is first aid training even an option anymore? Does Covid mean you're stuck waiting for training until the Covid pandemic finally ends?



Are first aid courses still running?


The good news is yes. First aid training is classified as an essential service under Covid regulations, which means that it can still run under all but the strictest restrictions. Like so many things under Covid, it's a matter of adapting and changing how you operate. First aid trainers in 2021 have needed to think outside the box.



Is it Covid safe to do training?


If you attend first aid training in 2021, you'll find many measures in place that are already familiar to you. You'll usually be greeted with sign-in lists at the door. You can expect to see social distancing adhered to - and you might find that class sizes stay reasonably small to stay within people-per-square-metre limits. And depending on what state of alert your region is under, you can probably expect face masks and hand sanitiser will be both offered and required.
You may also find yourself getting a cold reception if you turn up with a runny nose and a chest cough. Most training venues will require you to stay home and reschedule your training for another day if you show any flu-like symptoms.
Some other safety measures might be less obvious to you unless you've done the training before. Most first aid training venues will generally be making very thorough use of disposable gloves. And by now, your trainers will all be masters of cleaning down training equipment with antibacterial cleaning gear. And while previously you might have practised certain skills with a partner, you might find yourself practising your bandaging technique on your own arm now.
All these details mean that first aid trainers can still run their courses while keeping everyone as safe as possible from any risk of infection.



Can first aid courses go ahead in full lockdown?

So what about the most extreme lockdown conditions? Well, in most cases, the training can run if you're actually physically able to get there - but of course, that's not always possible. Although lockdown conditions can vary, under high-level restrictions, movement is generally restricted. Top-level restrictions generally require staying at home except for emergencies or essential supplies, which obviously puts a damper on any training plans.
Fortunately, there are options for first aid training in a wide variety of locations. Training organisations such as First Aid Pro run multiple training centres in most capital cities and many larger population centres. So whether you're in the Perth CBD or the suburbs of Cairns, there's generally a training venue not too far from you!
Even stuck in the most extreme lockdown conditions, there are still options. Some training organisations offer the theory components of their first aid training in an online format. So if you were doing a course such as First Aid Pro's Provide First Aid course, you could make use of the time at home completing the online sections of the training. Then once lockdown restrictions eased a little, you'd only need to complete a 2 hour practical at a nearby training venue, and your course would be completed.
No matter what the lockdown level, there are still options on the table for first aid training.