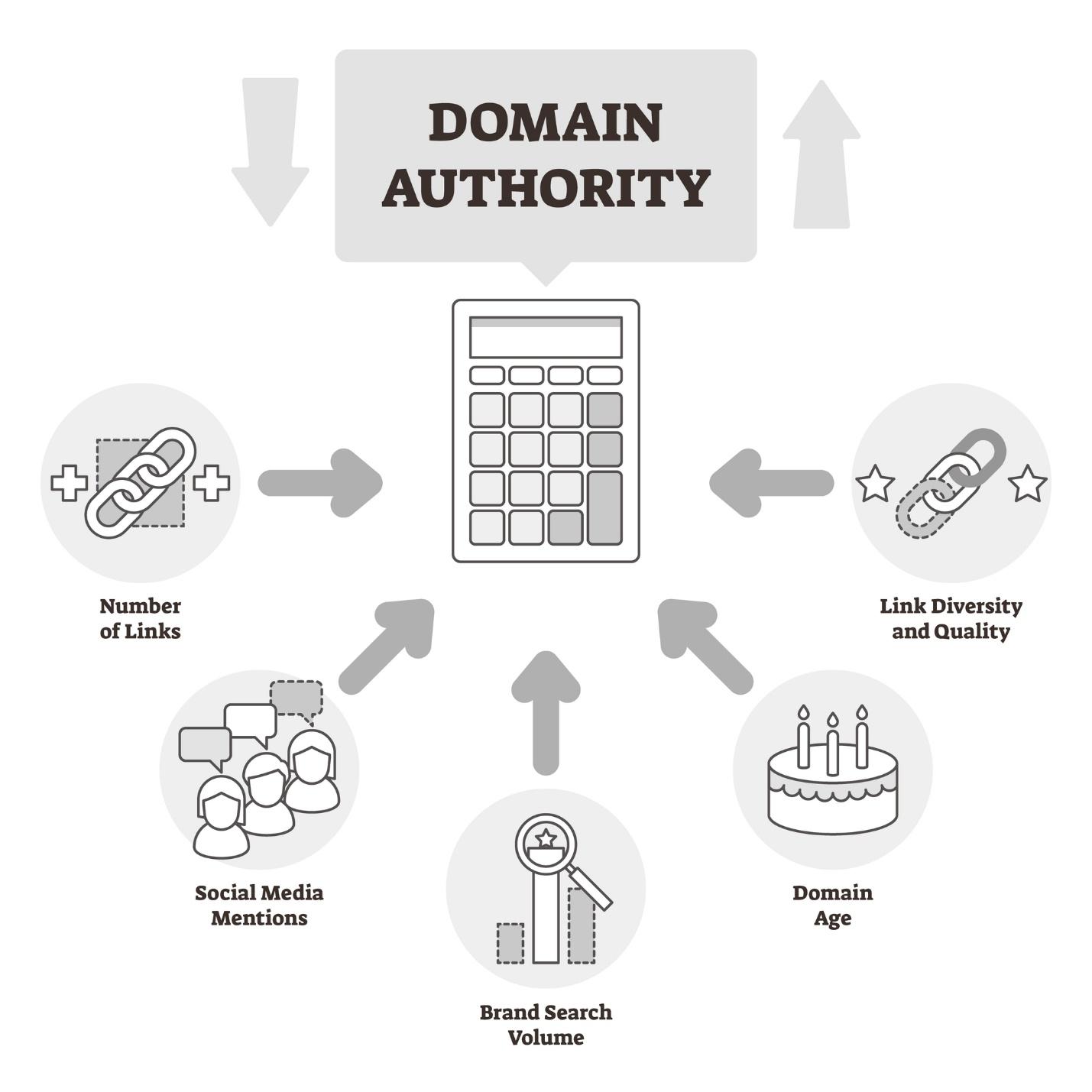 Image from https://websitestrategies.com.au/
The place where your website appears in the search engine result pages is determined by many factors. One of those factors is referred to as domain authority and it works together with the Google algorithm referred to as PageRank. The portfolio of backlinks in your small business website are another of the measures that help to give it good domain authority. So how do you increase your Domain Authority?
Links are Important
Domain Authority (DA) is based on a scale with a score that ranks your site from between 1 and 100. If your site has a higher score, it is going to rank higher. If your website is new, then your DA score will always be 1. You want to observe the relationship between DA and the links to your site. If you have high-quality external links to other sites that relate to the goods or services offered on your website, then your site receives credibility and the corresponding rank which will be higher. If the inbound links are not great and do not correspond to your business, then you will have a lower score.
You never want to link to low quality website by purchasing a pile of links to attempt to obtain more backlinks which will only lead to your site being penalized by Google. Although DA is important it is only part of the big picture when it comes to traffic to your website. In fact, Domain Authority is a metric that can be used to compare sites to one another, but it does not mean much as a stand-alone item.
When one looks at domains that are in competition with one another, the Domain Authority becomes a powerful metric. Page authority, page rank, click through rank, and keyword difficulty are all equally important to maximize the ranking capabilities of your website.
Can you Influence Your Domain Authority?
You can influence your domain authority by following above board practices known as White Hat SEO. When you focus on good links this can help tremendously. It looks simple on the surface, but it means that you need to eliminate any bad links and replace them with high quality ones.
Start the process by examining your backlinks and determine all the links that point to your website from a variety of other businesses or sites. This can be done by using Google Webmaster tools and navigating through to "search traffic". There are other websites too, such as MOZ that examines websites along with their links to sort out the low-quality links. Having too many low-quality links can damage your domain authority including porn sites and companies that have no relation to the goods and services that you offer on your website. You need to eliminate these and the best way to do that is to use some of the tools that you can find on the same sites that help you to discover them.
There are also the good links and the best way to get those good links is to ensure that your site is attractive and contains a lot of content that is readable, updated often and adds value to those who read it. Much of what your site needs is under the realm of content marketing. One source of that is articles and a blog connected to your site. Video can also be important to your site because they are easy to watch and can explain things much better than an article can. No matter what the method you choose to deliver your message, you need to have a good content strategy that adds value and does not contain any "hard sell" content.
Through your content you want to answer the questions of your potential customers while addressing their pain points which can assist you in building up a loyal customer base and a following. This will also help you to increase your good links and is one of the best ways to get the most relevant links and increase your domain authority.
Internal Linking on Your Site
It is equally important to link pages contained in side of your website to one another to boost your Domain Authority. Internal linking can increase your Google PageRank as Google crawls through your website. You should make a solid effort to link internal pages to one another with similar topic and theme to make it easier for your page users to navigate your website. This will give your site a solid Domain Authority boost.
Checking Your Domain Authority
When you want to know what your Domain Authority is in comparison to your competition, you can use a wide range of online tools to accomplish this such as https://www.robingupta.com/bulk-domain-authority-checker.html . If you have not done this in the past, now is a good time to look. Your Domain Authority is one of the main ways that you compete against similar businesses in your niche, and you want to rank about them so that your site shows up before theirs.