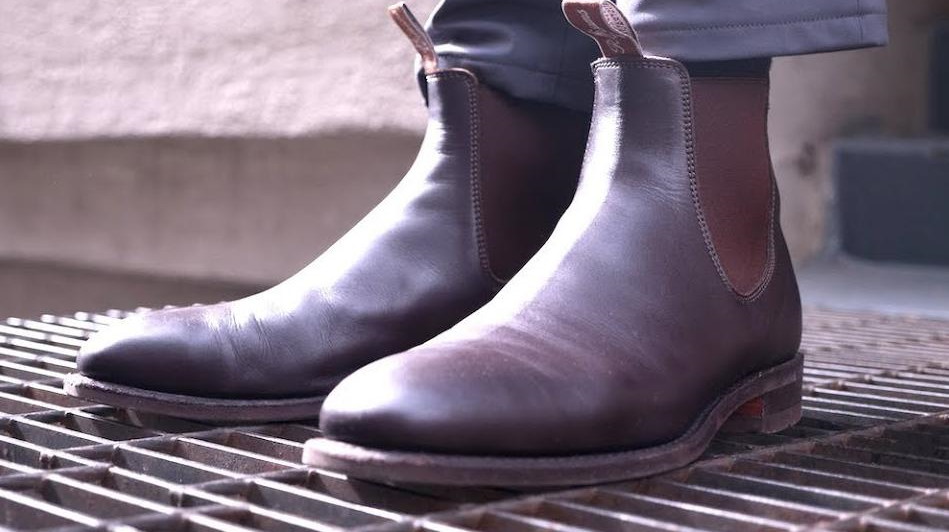 After learning his leather working skills from a passing horseman known as 'Dollar Mick' in the Flinders Ranges, R.M. Williams resolved to try his hand at producing leather goods. His first successes came from selling saddles to the owner of a group of cattle stations, which enabled RM to set up shop in his father's shed. The R.M. Williams company grows swiftly, developing a strong reputation across South Australia and beyond for their high quality products.
How are RM Williams mens boots made?
RM Williams mens boots are set apart by his aptitude for leather work. This production technique remains a marker of R.M. Williams styles today. The upper of the boots is constructed using a single piece of leather, a method that enhances durability and creates a timeless, clean look. In 1932, R.M. Williams created his first men's boots. Skilfully created from one piece of premium leather, these boots have been perfected over time, built to stay strong for long transits and tough labour across the Australian outback, but also ideal for urban adventures. Their legendary boots have become synonymous with the shared 'can-do' attitude of assiduous Australians, from the outback to the city.
Why are they so popular?
The reason why RM Williams mens boots is so popular is due to lack of competition at that price range particularly for boots. It is the age old battle of quality and quantity, and R.M Williams definitely delivers the quality. RM Williams has the widest exposure of any footwear in the Australian Market, worn by Australians from the outback to the suburban landscape.
How do RM Williams mens boots compare to other boots in the market?
There is no denying the quality and craftsmanship of RM Williams boots as well as their cultural significance. Regularly acknowledged for their comfort, convenient locations and high quality footwear, RM Williams mens boots are considered Australia's highest quality footwear, per price. Customers have complimented the service, the accommodation of staff and the comfort of the shoes. Whether your shoes must be able to be paired with a suit, trousers or jeans. The company meets all these requirements. It is said that these shoes fit like a dream and easily tackle any activities or adventures you throw at them!
Are they worth the Money?
An expert from US-based leather goods store Rose Anvil filmed himself cutting a pair of RM Williams mens boots in half to determine of the quality of the boot matched the high quality price tag of the finished item. It was determined that the RM Williams mens boots. They noted that the cork inside the boot would quickly conform to your foot, giving it a custom fit. Further noting the heel stack is full leather, except for the very bottom piece allowing for a more solid walking ability. Additionally noting that the boot's back inside lining was made of yearling leather, which comes from a cow up aged to two years, it would enhance comfort and may prevent sock and footwear with regular use of RM Willaims mens boots.