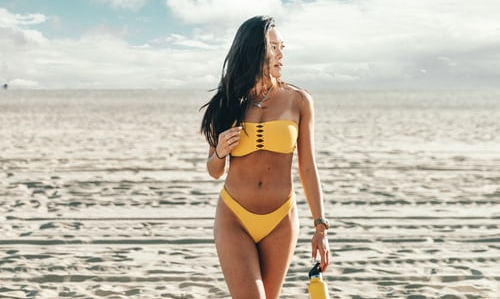 "Swimsuit shopping" are the two words that can put any woman into a frenzy. With so many options available out there, it can be quite stressful to choose the right one, especially if you have a big bust. It is easy to believe that you don't measure up to the standards set by unrealistic advertisements on wearing
full figure swimwear in Australia
.
But did you know that swimsuit trends in Brisbane are showing no signs of slowing down? The MBFF fashion festival recently showcased models in one-piece suits with abstract prints in shades of green, aqua, pink, and others. Adding more glamour to the show was gold sequinned-clad models setting the stage ablaze when presented on bikinis and dramatic high-split maxis.
So, do not downplay your body type but catch up with the trends by choosing the best swimsuits for big busts. Here are some shopping tips in this regard:

Buy a Bra-Sized Swimwear
Do you think that a bra-sized swimwear looks more like a bra than a swimsuit? But you'll be amazed by the trends in large-bust swimwear that leave you with sophisticated and stylish looks. They also have fabulous sizing options and fit features that make your search easy.
You can choose swimwear with your regular bra size and still get the desired fit. When it comes to fit, keep an eye for the slimming technology. Ensure that you buy a suit that is effective and comfortable. Bra-sized swimwear also gives you extra support since it is designed with the large bust size in mind.
Mind the Support
Having proper support features is vital for a swimsuit designed for larger busts. Adjustable and thicker shoulder straps can give you added security and ensure the suit does not come off with the waves. Try everything, from underwiring to cups, while shopping for full figure swimwear in Australia and check what fits you the best.
Underwire helps you feel lifted, secure, and comfortable while wearing the suit. If you are in need of great support, consider a swimsuit with cups that fit and flatter your figure perfectly. But be aware that you may have to compromise on style for getting the support you need.
With these supportive features, you no longer need to be self-conscious while lying on the soft sand of South Bank's Streets Beach or worrying about misfit clothing while surfing on the waves of Bribie Island.
Go Separate
Try going separate with your top from the bottoms if you have a hard-to-fit shape. Sometimes, bikinis run generic sizes when they are sold together, which may not suit your body type. You may need a large top and have a small bottom or the reverse. So, do you need to buy two bathing suits to fit your breasts and backside? If so, buy separately to get a fit that will be much better.
These separate pieces aim to celebrate the true diversity of the female form. Fashion labels in Australia even let you mix and match the separates while giving you flexible support without pinching.
If you are a woman with a big bust and love Brisbane's beaches, it's time to get trendy and sizzling with comfortable and supportive full figure swimwear in Australia. Knowing stylish swimsuit hacks for large busts help you remain active and help you conquer the beach season once and for all.
Ester Adams is a farmer of words in the field of creativity. She is an experienced independent content writer with a demonstrated history of working in the writing and editing industry.  She is a multi-niche content chef who loves cooking new things.