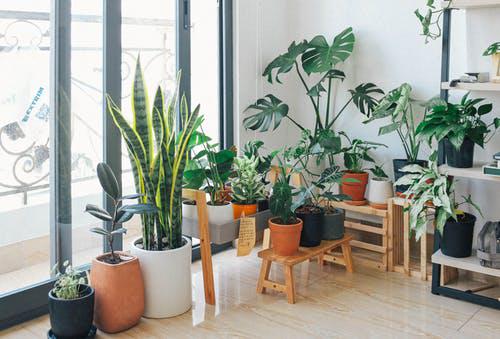 Human population has doubled over in last decades and statistics show that every year millions of acre of land oh native habitat is taken for housing, industrial and commercial use. This has not only cut down the food source of livestock and birds. Gardening has been a part of lifestyle for over decades. In ancient times people used to spend time sowing seeds, planting and nourishing them. Though a decline was visible in the approach of home gardening, recently people have again taken up the hobby. While some people indulge in gardening as a hobby, others do it to play their part in providing a food source to animals, and to have organic homegrown fruits and vegetable on their tables.
Gardening has numerous benefits. It helps in creating a healthier environment, soothes senses and also cures depression. The trend of home gardening is again rising, and nowadays, people allot a part of their home for this purpose. Even in small apartments, they try to keep some pots and plants in a balcony or terrace. Besides, a garden in a house appeals to the aesthetic sense. However, proper placement of plants, pots and gardening matters a lot as it could give a negative effect too.
Home gardening gives a place to relax and sit in solace without actually stepping out. There are a variety of gardens that one can have at home. It largely depends on the size of the house and what kind of garden would one like to have. Indoor plants can be kept in rooms as decoration pieces. Indoor plant wall is a beautiful way to decorate the home as not only does it add to the exquisiteness of a house, but also give a pleasing, soothing effect on the overall environment. Home gardening is not an easy task as it requires patience and consistency. Here are a few tips to help you with it.
Flowering Plants
Flowers are colourful and give out an elegant scent. Splashes of bright colours amidst green also add to the overall look of the garden. Flowers are of different types with different life span, while annuals' flowers' life cycle lasts for a year, perennial flowers live for about two years. It is not necessary to plant flower seeds to have flowers. Many of the vegetable and herbs also have beautiful flowers. Chive give purple flowers, spring onions give white, and pineapple sage grow red flowers. Having these plants in the home garden give two in one effect, homegrown vegetable or fruits for your food and flowers as decoration pieces.
Have a Theme
Planting is an art and displaying them is also a type of art. Plants can be put haphazardly. They may give a look of a garden, provide homegrown vegetables and fruits and a healthier environment, but it will not appear beautiful and pleasing to anyone's eyes. On the other hand having a proper theme, like having a tall flowering pot in the middle of lots of small green pots would not only look good but also affects people's mood in a right way. Similarly, a punnet of same coloured flower in a container would be the same coloured theme. Depending on the choice of inhabitants of a house, some idea can be followed for the garden, and it will give the whole place an alluring look.
Plot out space
Before planting a seed, you should first check out the area. Nothing looks uglier than cramped up plants in a corner. It is wise to have a space designated for plants before you buy plants or sow the seeds. Plants also need space to grow and keeping lots of different types of plants together will only wither them away. This will also create a negative effect on the environment, and instead of providing grace to the place, it will look grotesque.
Colourful Pots
Flowers are not the only way to add colours in a garden. A variety of pots are available in the market, and numerous tutorial of do-it-yourself jars are also available online. You will not even need to buy the jars, but many of the containers can be reused for planting. Feature planters are trendy, classy and help drawing any eye to a focal plant or a particular area. A plant in a colourful and graceful pot is an example of creating a look of less is more.
Unity
Unity can be achieved by keeping plants of different types having the same coloured leaves. This gives a particular colour to that specific corner and has a peaceful effect on that side. When we talk about the garden, green in the most prominent colour that dominates the most part. A corner of a house having green plants helps in calming nerves of inhabitant and also creates a welcoming atmosphere for the guests. For this particular reason, a lot of homes have a small garden right on their entrance.
Wall Art
Creativity has no boundary and when it comes to the decoration of a house, people try lots of unconventional things, some of which looks elegant while some may not stand out. Plants on fence and walls are not a new idea, but lately, plants have been incorporated in numerous kinds of crafts. Plants on a wooden plank that can be hanged on the side of a wall, small pots hanging on nails and having plants in a frame are a few decorative pieces that people living in compact houses can also keep. People have come up with a plethora of ways to bring nature in their homes to have a soothing and pleasing environment and the house look more aesthetic.
Avoid Clutter
While decorating a house, it is very natural to get carried away and stock a lot of things. This is not recommended as it will only create clutter and give home a claustrophobic feel. A garden doesn't necessarily have to be a big and fancy one. It is better to have a small corner having three of four plants rather than numerous plants in a compact place.
Conclusion
Nature is calming and in this chaotic world, having a small piece of nature at home is a blessing. Spending at least half an hour in nature is highly recommended, and medical has proved that it has numerous benefits. In this fast-paced life of ours, it becomes impossible to take out a few minutes and take a stroll in the garden. However, if someone has a garden at home, then spending a little time daily close to nature is plausible.
Moreover, homegrown vegetables and fruits not only save money but also are healthier than the ones available in the market. Other benefits of having a home garden include that it serves as a decoration piece in a house. If a house has an open area, then it is wise to have a small greenhouse over there. Otherwise vertical spaces in the home like walls, railings of a staircase, hangings are an excellent spot to keep planting pots. Some plants do not regularly need sunlight and can be grown indoors. These plants serve as perfect decoration pieces in bedrooms, living room or kitchen. Home gardening has numerous benefits, and it is a very productive hobby that serves our environment as well.