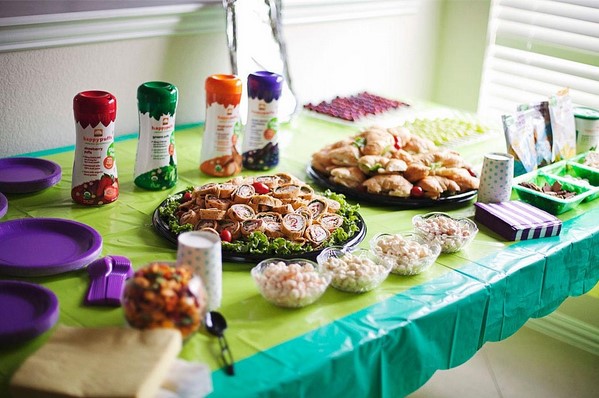 Children still believe in fantasy and enjoy having parties that include their friends and lots of fun. Some of the best ideas for children's parties include making them fruit and marshmallow kebabs that to them could be magic wands, They can have fun and also enjoy delicious juicy fruit and sweet, chewy marshmallow.

It is always a great idea to allow guests to dress up in party costumes and if the time is right, St Patrick's Day costumes.

If you plan on including bread with the food for your children's party make it fun for them, Cut out interesting shapes from the bread with a cookie cutter and add colored sugar sprinkles to the buttered bread.
Keep in mind that the one thing all kids agree on is chocolate so make some chocolate crackles or little chocolate cakes.
Jello-O the kind that wiggles and comes in all kinds of colors is always a favorite with children, With a bit of imagination you can create all kinds of interesting shapes with the jelly that doesn't always have to just come in plain old cups.
Popcorn is a fast and fun treat for kids,. You can make it salty or make it sweet drizzled with white chocolate and set on the popcorn in the fridge,.
Kids of all ages love cupcakes and cupcakes can be made in all kinds of flavors with icing in various colors depending on the theme of the party,
Cookies in all kinds of shapes and sizes are always a hit, Made magical with food coloring and icing,
When it comes to serving up food for the children think of sandwiches made with ingredients the kids really enjoy like peanut butter and jelly, tuna fish, or bologna but don't stop there take cookie cutters and create sandwiches in all kinds of shapes and sizes.
If you're thinking of baking something try mini quiches which can have lots of combinations including ham and cheese which usually children love or make a real kids treat like sausage rolls.
You might choose to make a children's party with pizza or make a BBQ either way the things kids love about both pizza and BBQ are the delicious sauces. Some great sauces you can make are:
Just mix tomato paste and sauce together in a medium bowl and make sure to mix well. Then add the other ingredients like oregano, Italian seasoning, garlic powder, onion powder, garlic salt, pepper and sugar and mix well. Now create a great pizza with this sauce.
Make a sauce all kids love called yum yum sauce. In a bowl combine mayonnaise, tomato paste or ketchup, melted butter, garlic powder, onion powder, smoked paprika, water, sugar, hot sauce and dried pepper flakes are optional. Mix all the ingredients together. Stir well and refrigerate overnight.
If you're considering making BBQ for your children's party outdoors make a delicious BBQ sauce. In a medium saucepan whisk together ketchup, apple cider vinegar, brown sugar, honey, Worcestershire sauce or coconut aminos, lemon juice, Stone House seasoning, and hot sauce optional. Over medium heat let the ingredients come to a bubble and then reduce heat to low. Simmer for about ten minutes to thicken. Serve right away or cool slightly and then store in an airtight container in the fridge for up to a week.