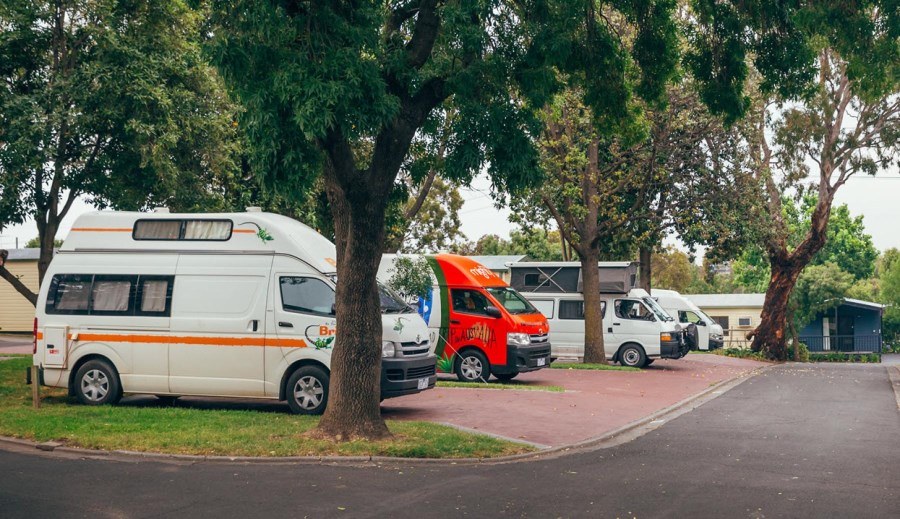 Melbourne has an unbeatable mix of sport, food, fashion, culture and, of course, great coffee! But if you take just a short drive outside the city, you'll find that there's so much more to see in the great outdoors beyond the city's limits. So pitch a tent, park your caravan and get ready to enjoy a weekend free from the constant 'bing' of email notifications as we introduce you to the best camping grounds that lie just outside Melbourne
Just 9 km away from Melbourne Central Business District, Melbourne BIG 4 Holiday & Caravan Park is the closest caravan & camping ground to Melbourne itself.
The BIG4 holiday park has two camp kitchens which are fully equipped with all the essentials like an oven, fridge, microwave, table and chairs. You can also enjoy cooking outdoors (the way it should be done) in the BBQ area which has stainless steel sinks, tables, chairs, gas hot plates and plenty of room for a good size family get-together.
This camp ground has a great reputation for both cleanliness and excellent customer service and with both powered and unpowered sites available, it's a great option for campers on any budget.
Discovery Parks – Melbourne Caravan Park
At just half an hour away from Melbourne CBD, the Discovery Parks Melbourne Caravan Park is another good option for those that don't fancy venturing too far outside of the city. This camp park has various features that make Melbourne Caravan park an ideal place for camping. Featuring a playground, swimming pool, free Wi-Fi (no getting away from those work emails) and a fully equipped kitchen, this campground has it all. For getting back to nature in relative ease, this is a sure-fire winner.
Kurth Kiln Picnic & camping ground
East of Melbourne, Kurth Kiln is one of the closest bush camping opportunities to the city for all you urbanites that want to experience a bit of bush life. This 3500-hectare park has plenty of things to keep you busy. Here you can go horse riding, bushwalking and cycling or just lie back and enjoy the fresh country air. No bookings are taken for this campground and camping is on a first-come, first served basis.
There are pretty good toilet facilities and campfires are allowed. Preferably bring your own wood for the campfire though you can pick up whatever is lying around. This campground is also pet-friendly.
Anderson's garden is a well-equipped spacious camping area which is enclosed by beautiful mountain ash and wattle. It's a wonderfully scenic area with all the essential facilities such as toilets, drinking water, hot showers, and a wood BBQ area. The place is superb for walking, has excellent biking trails, and offers some great horse-riding opportunities. Here you'll also find top-notch 4wd drive trails throughout the area. Located near Sunday Creek, this place is hugely popular during the holiday seasons.
Warburton Caravan Park or Warburton Holiday Park
Situated just 1.5 km from the centre of Warburton town, this holiday park is considered the premier camping and caravan destination in Yarra Valley. The campsite provides facilities like self-contained cabins, BBQ areas, and a children's playground among others. There are also walking and biking trails throughout the area. Warburton Holiday park offers acres of campground within a spectacular bush setting. Pets and campfires are allowed.
Now, of course you can hit these camping grounds with nothing more than a tent under your arm but let's face it, you're going to want a decent caravan, right? If you're on the lookout for a new home on wheels then you'll want to learn a little more about caravan finance.
Yes, that's right we said caravan finance. The truth is that you really don't need to clean out your savings just so you can pay cash for that dream camper or caravan. Opting for caravan finance instead of cash buying has quite a few benefits but the biggest is the fact that you can buy the latest model with all the bells and whistles. And once you've got that dream caravan hitched up to your car, there's no stopping you.

As Australia's largest car finance broker, Stratton Finance know a thing or two about loans and finance. With over two decades of experience in the field they are one of the most trusted authorities in the industry.